Government debt
A government that issues its own currency cannot go bankrupt.  It can choose to offset its spending by raising taxes or by borrowing (issuing government bonds). But it does not have to. It can just credit the accounts of the recipients of government spending. The only limit on the amount a government can spend is that if it spends more money into an economy than the production levels in the economy can absorb it will cause inflation- too much money chasing too few goods and services.
Corporate debt
Corporations, unlike governments, cannot issue currency, They raise finances through issuing shares, with shareholders owning a part of the company (equity). Alternatively, corporations can obtain finance through bank loans or by issuing corporate bonds.
What is a corporate bond?
Corporate bonds are issued by corporations looking to raise capital. Unlike a share, a corporate bond does not provide any interest in ownership of the company. It is essentially a loan agreement.
The bondholder lends money to a company for a predetermined period of time, known as a bond's term. That period might be two years, five years, or 10 years, depending on the company's needs. The company, in turn, agrees to pay a specific amount of interest on that loan, and then repay your initial investment, or principal, once the bond matures, or comes due, at the end of its term.
Even prior to the Corona Virus crisis corporate debt in the USA had reached record levels. This was due to the prolonged period of low-interest rates since the global financial crisis of 2008. Total U.S. corporate debt of large companies in November 2019 reached nearly $10 trillion, equal to a record 47% of the entire U.S. economy.  But according to Forbes magazine "Adding the debt of small medium-sized enterprises, family businesses, and other businesses which are not listed in stock exchanges ads another $5.5 trillion. In other words, total US corporate debt is $15.5 trillion, 74% of US GDP."
Many companies borrowed heavily not only to expand in a growth cycle. But also to boost their stock prices through dividend increases and stock buybacks– essentially speculative, non-productive investment.
US corporate debt as a % of GDP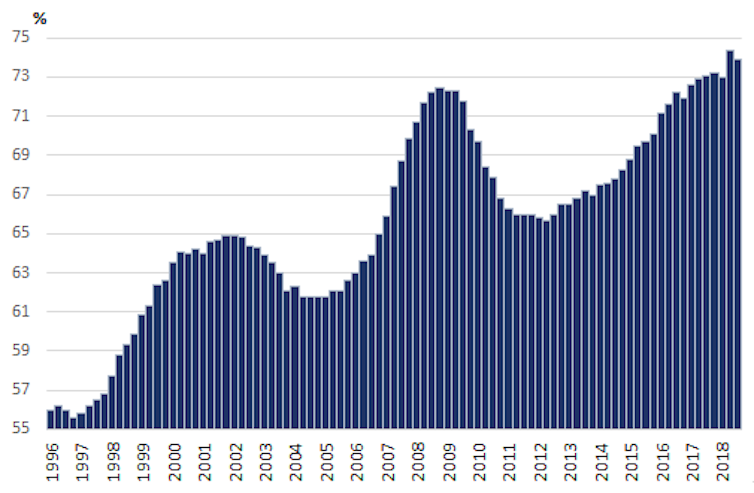 Bond defaults happen when a company stops paying interest on a bond or does not repay the principal at maturity. Typically, companies file for bankruptcy protection prior to a bond default.  If a company defaults without declaring bankruptcy first, then creditors are likely to force them into bankruptcy.
Morgan Stanley's Ruchi Sharma estimates that one in six U.S. companies do not have the cash flow to cover its own interest payments. Such firms have been relying on the debt market to continuously refinance.
The U.S. isn't the only place irresponsible borrowing has gotten out of control either.
According to a report by Serdar Çelik and Mats Isaksson for the Organization for Economic Cooperation and Development, the past decade's worth of borrowing has created an unprecedented amount of low-quality corporate debt.
The OECD report found that excluding financial institutions, debt among corporations around the world rose to $13.5 trillion at the end of 2019. That's the highest it's ever been. Compared with previous years, the data show that outstanding corporate bonds not only have lower quality ratings, but they also have inferior investor protection.
Over the past decade, 20% or more of corporate bonds issued have been non-investment grade. Issuing such a high proportion of non-investment grade bonds over such a long period hasn't been seen since the 1980s. It suggests default rates will be inflated in an economic downturn. That will increase the chances of a long-term recession.
According to Peter Goodman writing in the New York Times:
"The concern about the magnitude of corporate debt is an outgrowth of how the world reacted to the financial crisis in 2008. Central banks from the United States to Europe to Japan pushed interest rates to zero and below, spurring companies to borrow and invest. That approach ended the emergency, but also removed a source of market discipline: It diminished the risk of relying on debt."